November 4, 2021
Reducing the environmental footprint using Quant's digital tools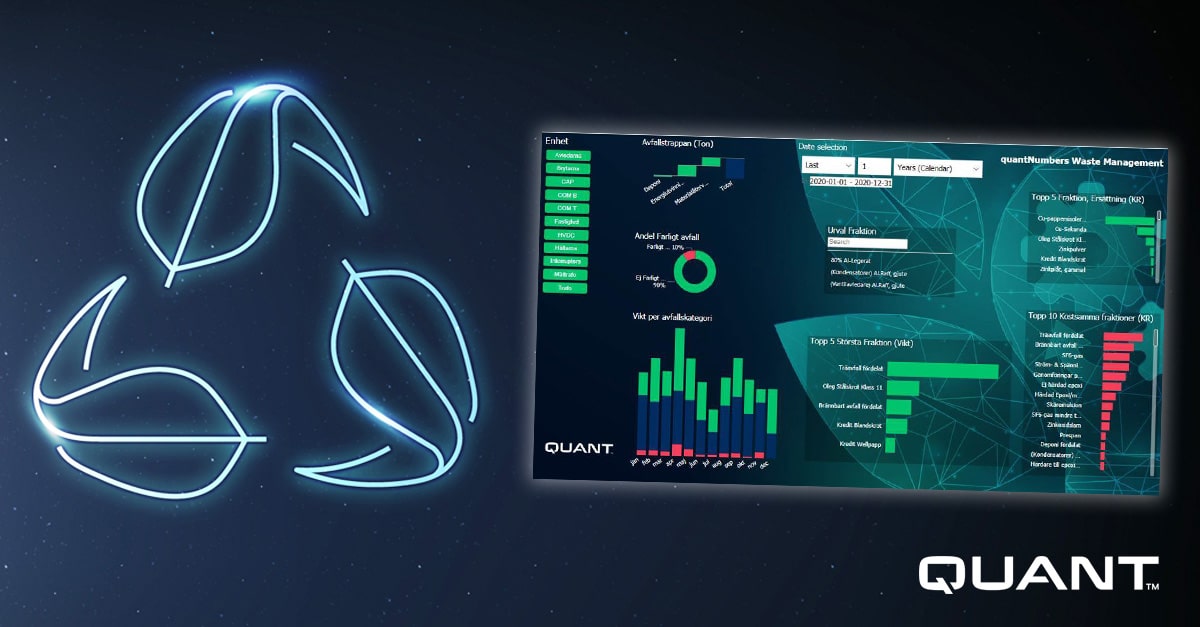 At Quant's site in Ludvika, Sweden, there is an ongoing project which really aligns with our vision of Smart services for a sustainable world. Using digital tools, the site has improved waste management, making it possible to get a complete overview of the waste chain and reduce the environmental footprint.
The partnership with our customer Hitachi Energy in Ludvika, Sweden, goes back to 2006 when the original contract started. Operations at this site includes development and manufacturing of large power transformers and high voltage products, as well as high-voltage direct current systems for grid interconnections, offshore wind connections etc. For Hitachi Energy, a good and safe working environment is an important strategic issue and close co-operation with suppliers is a natural way of working in their organization.
In 2020, big development steps were taken regarding waste management on site. All waste is weighted, and the data is then visualized using quantNumbers. The report is shared with the customer and gives full control of the waste, making it possible to track what kind of waste it is, where it arises and how harmful it is.
– These reports give us a great overview, helping us identify how we can become more efficient and what areas to focus on to reduce different kinds of waste, says Kim Berge Hedkvist, Logistics Engineer at Quant in Ludvika.
– It gives us the ability to track and follow up the whole process, from start to finish, and by that we can help the customer improve their waste management even further.
"That is a huge environmental gain"
Another important part is the balers, not only compressing the waste to reduce transports but being connected, they send signals when full so that pick-ups can be planned. The connection also makes it possible for Quant employees to see their status. Thereby we can perform condition-based maintenance instead of the often more expensive calendar-controlled maintenance.
– By implementing digital smart solutions, we can measure the degree of filling and empty the balers as soon as they are full. Previously, we have not had any indications of this, meaning that it could take some time before they were emptied, Kim explains.
– This is an important part of a bigger picture, where we also have worked with improving the environmental stations, putting up signs, making sure everyone has access to the right information and so on. Because that is where it starts, with improving the sorting.
Fredrik Haglind, Project Leader at Quant in Ludvika, also emphasizes the possibility to recycle a larger part of the waste, as the quantNumbers reports make it possible to track every step of the waste chain.
– With this solution, we support our customer to step up in the waste hierarchy from landfill to recycling, which is a huge environmental gain.
Full overview using quantNumbers
Apart from the environmental aspects, with better sorted waste, less transports and full control of the entire waste chain, this service also brings added value to the customer in other aspects.
– The customer gets a full overview of the waste, meaning not only that they can see where it is produced and what kind of waste it is, but also what materials they are using and what the costs are, says Fredrik.
– For many, waste management is a bit tricky, and it can be time consuming. By broadening our offering and being able to not only do the maintenance but also taking control of the waste management, we can offer a good solution to the customer with already established suppliers and provide expertise within machines and maintenance, as well as waste and digitalization.
Although several improvements have already been made, Fredrik and Kim have a clear vision on how to develop and improve waste management even further.
– Our employees are doing a great job with weighting the waste and keeping a record of the transports, which gives us important data. The next step is to make it possible to track even more things, giving the customer more data and thereby having the opportunity to improve waste management even further, says Kim.