September 22, 2021
Saving money and the environment using digital solutions in industrial maintenance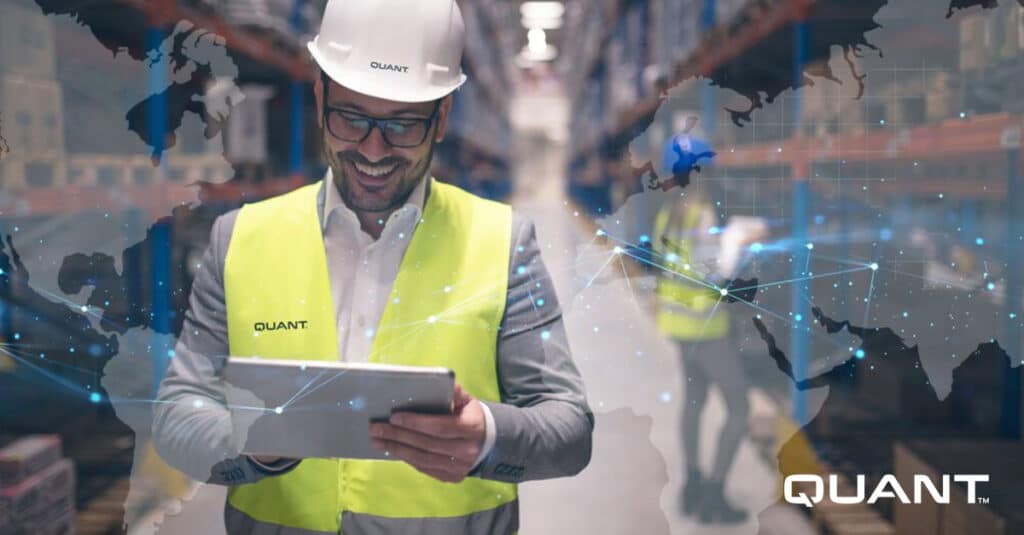 The technical availability of production equipment is one of the most important indicators of a factory's success. Unexpected production interruptions cause headaches and additional costs, and the consequences are also being reflected in the safety of production facilities as well as in the ability to reach environmental targets.
The goal of predictive maintenance is to detect potential issues early enough to avoid unplanned production downtime. The development of digital tools, for example tools for condition monitoring, is one of the core areas of Quant's operations and we can offer several tools suitable for many different industries, with the goal of improving safety and production efficiency.
Nowadays, even smaller production facilities have access to, for example, solutions for vibration measurement enabling them to streamline their production processes.
– There are opportunities to take the first steps and start utilizing maintenance technologies at a very low cost. Especially in industries where, for example, vibration measurement has not been widely used in the past, says Quant Finland's Area Manager Tommi Palmroth.
Palmroth mentions the food and beverage sector as an example. Until now, the traditional users of condition monitoring technologies based on vibration have been found in the chemical industry or within pulp and paper. However, now also bakeries, among others, can use vibration measurement technologies to increase production efficiency.
– I would say that vibration measurement is well suited for many industries. It is no longer seen as something expensive and special, enabling more and more players to invest in such solutions. I think this is a trend that has grown stronger in the last years, Palmroth adds.
From "firefighting" to a predictive maintenance operating model
Quant have 400 references from various industries around the world. Our digital tool quantEffect measures the overall production efficiency in a timely manner and transfers data from the factory directly to for example production management and sales. For one of our customers working in manufacturing, the introduction of quantEffect increased the production efficiency by more than 10 percentage points in three months.
– In addition to improving production efficiency, the development of safety management is a significant advantage when using our tools. In one of our customers' locations, our safety management in combination with the use of digital tools have reduced the number of accidents and contributed to developing a stronger safety culture in just a few years, Tommi Palmroth says.
Palmroth highlights that occupational safety is the number one priority in Quant's own operations.
– Proactive safety measures are key for us. For example, a job-specific risk assessment is always being done before starting a new task. This is about having a strong safety culture.
With quantPredict, the condition of equipment is being measured and the system automatically alerts you when there is a need for maintenance, contributing to both improved reliability as well as optimized costs. Another tool is quantNumbers, which collects data related to anything from safety to efficiency, that can easily be shared both internally and externally.
Palmroth stresses that making reports always involves manual work, and it is often a time-consuming task to compile data for these various reports.
– Thanks to quantNumbers, the plant production staff can analyse past events, helping them to handle future events more efficiently. The program helps in building a unified and clear way to present various data related to the production process of industrial plants.
Wireless condition monitoring
Planned downtime is always safer than sudden stops. When maintenance can be planned in advance, risks can be analysed, and all necessary safety measures to protect equipment as well as people can be carefully anticipated and implemented. Using wireless sensors, necessary data is gathered in one single system where it can also be managed, allowing for round-the-clock monitoring and quick response.
Quant Finland's Automation Development Manager Veli-Matti Arola highlights that the bakery sector, as an example, are using rotating equipment similar to that being used in the heavier industry sector.
– On a smaller scale maybe, but still. Being able to avoid unexpected production downtime is reflected not only in optimized costs but also in a more sustainable production process, when equipment repairs and maintenance are carried out as planned, says Arola.
Janne Toivanen, Area Manager at Quant Finland:
– At worst, unplanned downtime can also be a serious safety risk. Therefore, it is particularly important that stops can be planned in advance so that potential risks can be eliminated before starting the maintenance work.