December 8, 2021
Condition monitoring predicts and prevents production downtime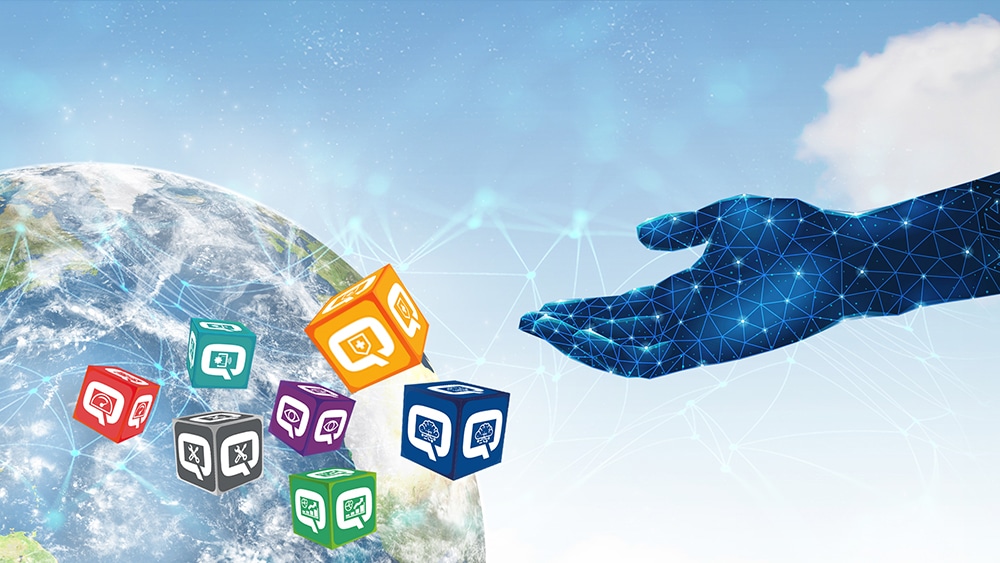 In the beginning of 2021, we started a project at our site in Punkaharju, Finland, aiming to develop our operations towards a more modern and intelligent maintenance approach. This means that the main focus will shift from repair to preventive measures, a modern and proactive approach improving safety and reliability as well as optimizing costs.
The project, which started in the beginning of the year at our Metsä Wood site in Punkaharju, Finland, has developed according to plan. The second phase of the project is currently underway.
– We are installing the last sensors which will be commissioned later this month. All in all, when finished, we will get fact-based data from around a hundred wireless sensors connected to our quantPredict system, says Tommi Palmroth, Development Manager at Quant Finland.
– The project has been efficient, partly thanks to the fact that we make sure to train our personnel from the very beginning, in connection with the installation and the commissioning of the sensors.
quantPredict is our cloud-based condition monitoring system, through which information flows seamlessly from wireless sensors to the maintenance personnel. Thanks to the data obtained, work planning and maintenance operations have become clearly more efficient, as automatic alarms and work orders go directly to the maintenance system.
– Improvements in performance have already been observed as information is obtained more easily and quickly. We get information about the fault even before something breaks down and, in some situations, we have even been able to completely prevent the fault from occurring, says Janne Toivanen, Area Manager of Quant Finland.
– With the help of condition monitoring and shifting towards a preventive maintenance approach, escalation of larger defects can be prevented, also preventing eventual production stops.
The shift towards a more modern maintenance approach has already from the beginning been received with interest and a positive attitude among the staff. In particular, personnel have been pleased with how Quant has taken the change forward and introduced modern tools to streamline day-to-day operations at the customer's site.
From corrective to preventive maintenance
In Punkaharju, we have already earlier seen the positive effects of condition monitoring from another plant at the customer's site. The project as a whole is a major step forward in reducing corrective maintenance tasks and moving towards the preventive maintenance approach.
– The goal of Quant's reliability maintenance is to ensure a standardized world-class level at all our sites, through which we create customer value and technical reliability. Preventive maintenance and condition monitoring play a significant role in this core process, says Lari Kostamo, responsible for Quant's reliability maintenance process in Finland.
– To succeed, we need to understand, manage and develop the key elements of the process; the plant's operational safety requirements, the basics of maintenance, the quality of the work, condition monitoring and the plant's life cycle, Kostamo adds.
Janne Toivanen:
– The transition from corrective to preventive maintenance is a big step for our operations. A particularly important aspect is that through condition monitoring, it is also possible to significantly improve safety, due to more efficient planning.
Extending the life cycle of your plant equipment
One of the benefits with condition monitoring is that it extends the life cycle of the plant equipment, which is an important part of taking responsibility for how operations impact our surroundings. In particular, equipment that is either expensive or critical for the production have been included in the condition monitoring. Ten screens have been installed in the maintenance facilities to provide up-to-date data on the operation of these devices. This allows maintenance personnel to inspect the device as soon as exceptions are detected in the data obtained by the sensors.
The quantPredict system automatically sends alerts to the site's maintenance system and creates work orders that the maintenance worforce can respond to. At Punkaharju, Esa Valkeapää is responsible for conditions monitoring, including touring the factory and analyzing the results.
– The sensors could indicate, for example, an increase in vibration levels or temperature. Automatically receiving this data, we are able to perform the analysis and the necessary pre-service already before the device fails. In this way, major equipment failures and production downtime can be prevented, which brings great benefits from an economic, safety and environmental point of view, he says.
– As an example, I could mention a case where we received information about an increase in vibration level through an installed sensor. This was due to a lack of greasing in the device. If the fault had escalated, this would have cost several thousand Euros and a four-hour production downtime. Thanks to the information received, maintenance could be performed on time, as planned, safely and cost-effectively.
Esa mentions also that other development projects are ongoing, such as the testing of a sensor for condition monitoring of the oil used in various plant equipment.
Delivering significant long-term benefits
The transition towards a preventive maintenance approach is a major step forward. In addition to this project, the digital tools used are continuously developed.
– These projects require perseverance. Changes do not happen overnight, but they deliver significant long-term benefits, says Palmroth.
– At Quant, we have a strong focus on the development of our digital tools, which enable us to streamline and support our customers' operations. The future target for condition monitoring is to further develop reporting practices, says Palmroth.