November 3, 2021
"Investing in leadership is a choice"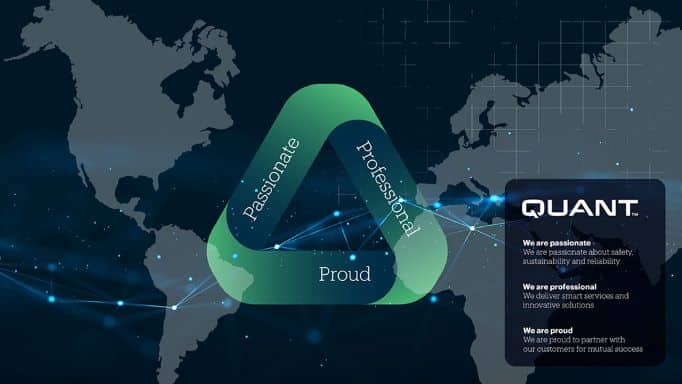 Sebastian Storbacka, new regional manager for Finland & Baltics, tells how good leadership focusing on the people is a topic close to his heart and something he wants to emphasize even stronger in the future.
"Studies have shown that management has a very large impact on employee and customer satisfaction, and through that also on the customer's and the own company's results. This is also shown by our own employee satisfaction surveys", Storbacka says.
Industrial maintenance has often been seen as a playground for "real men", but according to the regional manager, times and attitudes have changed. Modern maintenance is a systematic work with great focus on safety, supported by maintenance systems and digital tools.
"Above all, however, maintenance is the delivery of a service where our customer's experience is based mainly on the interaction between people. In delivering our maintenance service, we at Quant are guided by our strong values; passionate, professional, and proud", Storbacka says.
At the heart of management is a strong service culture
Other Quant Finland experts also talks about the importance of this topic from their perspectives. Human Resource Director Petra Soidinsalo believes the implementation of a good and common service culture is at the heart of leadership.
"In the management, we cannot focus only on the external service and its delivery, but we must also pay constant attention to our own employees. As everyone who reads the safety instructions on an airplane knows, you can't take care of others if you don't first ensure your own ability to function. By good leadership, we must ensure the competence and well-being of our employees, so that they have the right skills and resources to provide first-class service, says Soidinsalo.
The Quant operating models developed during the years creates a framework for the management during the entire maintenance process. Quant Finland's Development Director Mika Puontila says the models serve as an excellent platform for professional maintenance.
"The maintenance and production organizations are in contact at many different levels, so it is important that it is clear in all encounters that we do things according to the operating model, and with a positive attitude. The role of the supervisor in each maintenance unit is important in setting the direction and describing the target status for both customers and all members of their own team", Puontila says.
"At company level, coaching for effective management is an important part of implementing our approach to make this happen."
Strengthening the safety culture through good management
"Safety always comes first in Quant's operations, it is built into our values, and guides everything we do", says Quant Finland's Safety Manager Iiris Paavisto.
To lead with knowledge is especially emphasized in safety; measurable data which is processed into information to be shared with the organization is always needed, both when developing a common safety culture as well as when managing the safety performance of individuals. An essential part of management is also internal communication which must be interactive in terms of safety.
"There must be continuous co-operation and dialogue between the occupational safety and health organization and committee, employees and management, to ensure the effectiveness of cooperation and health and safety at work, but also the functioning of common rules", Paavisto says.
Work as supervisor requires continuous development
Quant Finland currently employs about 450 people across Finland, who work mainly in the customer's production facilities. Although every effort is made to promote interdepartmental co-operation, site managers play a key role in influencing local organizations.
"The role of the site manager is thus a challenging, but at the same time excellent growth environment for holistic management. Therefore, our most important task as a company is to create the conditions for them to succeed independently, by utilizing Quant's comprehensive toolkit and support organizations, as well as by organizing targeted training and development days", Storbacka tells.
"As a result, what we are doing today is excellent, although there is still room for improvement in terms of management and supervision", Storbacka adds.
Storbacka keeps the employees as Quant's most important resource who, he says, should be visible in all practical work, not just in sales pitches or fiery rhetoric.
"Like safety, it is also our choice to invest in leadership. Our goal is to make our entire staff feel that their input is highly valued and considered", says Storbacka.
"In order to reach our goals, in the future we as a company will focus even more on competence management and systematic development, peer support team formation, mentoring, and proactive career planning. We firmly believe that through better management, we will become a better provider of industrial maintenance services", Storbacka says.