April 30, 2023
Introducing Matías Henríquez, winner of the Quant Award for Best Innovation of the Year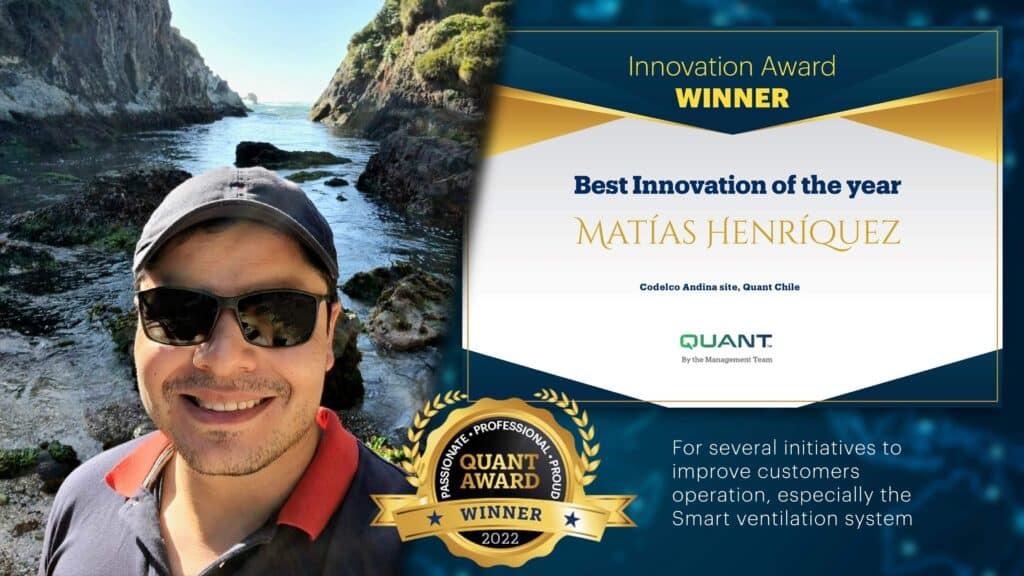 Matías is an engineer responsible for control and industrial instrumentation, and he has been with Quant since 2014. He started at the company as his first job and he has since held various positions, allowing him to develop and grow professionally.
Can you tell us about your job and collaboration with our customer?
As the person in charge of the control system for our client Codelco Andina, I communicate directly with the system operators to address their requirements and improvements. Additionally, I lead some of the technological projects for the contract, which has enabled me to maintain a strong and positive relationship with our contract owner.
Your award was based on your idea for a smart ventilation system for our customer. Can you tell us more about that?
I realized that it was possible to implement a Smart Ventilation system that would allow us to restrict the operation of a group of fans during established times, resulting in energy savings and a reduction in carbon emissions. We also developed an operational platform simulator that enables the simulation of emergencies, which has been instrumental in training and improving the response of operators and is critical in terms of safety.
When do you feel proud at work?
Being with the company since 2014 and seeing the growth I have achieved during this time makes me tremendously proud. Our contract with the customer has been renewed several times over the years, which speaks to the passion, professionalism, and pride that all of us in the Quant family who work on the Codelco Andina contract bring to the job.