June 13, 2019
First company in Chile to obtain an ISO 45001 certification for mining maintenance
Quant consolidates its leadership in safety, environmental responsibility and operational excellence.
Santiago – May 13, 2019 – Quant, a leading global company in management and service maintenance, has become the first company in Chile that offers mining maintenance to be certified with the ISO 45001/2018 standard for management systems of occupational health and safety, as well as being certified in ISO 9001, 14001 and 55001.
ISO 45001 is a new international standard, which replaces the OHSAS 18.001 / 2007 standard and which specifies the requirements for an occupational health and safety management system, providing indications for its use and allowing organizations, through a preventive culture, to significantly reduce the number of accidents and health problems.
According to Quant's regional manager Maximiliano Aqueveque "we have focused on strengthening our comprehensive management system for which obtaining certifications was an important step. We are convinced that by focusing on people and processes, this will help us to continuously improve the safety for each of our workers, the quality of our services and asset management, which results in more satisfied customers."
Raúl Trigo, certification manager of TÜV Rheinland, added, "the certification work we did with Quant South America was exhuastive. We certified Quant with the ISO 45001 standard, making it the first mining maintenance company to achieve this level in Chile, in addition to certifying the company in ISO 9001 and 14001 and confirming its compliance with ISO 55001."
By obtaining these certifications, Sweden-based Quant positions itself as a pioneer in the Chilean market and reaffirms "its goals of zero accidents and of setting the highest global standards for identifying, minimizing and eliminating the sources of errors that put our workers at risk as well as working to become an increasingly better partner for our customers," said Aqueveque.
Quant's certifications are valid for its operations in Chile and Brazil. In 2019, the company is considering expanding the scope of its certifications to include its operations in Argentina, therefore demonstrating its commitment to adopt best practices and to establish the highest requirements to operate in the region, as it does in Europe and Asia.
The Quant certification process ended in January 2019 and its certificates were issued in April. The award ceremony took place on May 10 at the Quant offices in Santiago.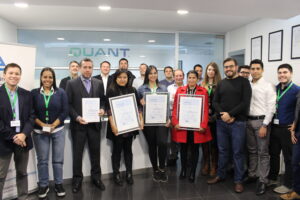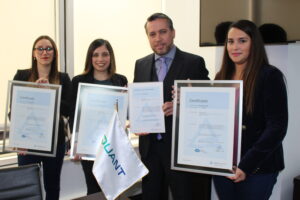 About Quant
Quant is a global leader in industrial maintenance. For over 30 years, we have been realizing the full potential for our customers. From embedding superior safety practices and building a true maintenance culture, to implementing the latest digital tools to optimize maintenance cost and productivity, our people make the difference. Our experience covers more than 300 installations, in which we have changed the role of maintenance from a cost center to a value generator for our customers.