17 joulukuun, 2021
Quantilainen palkittiin Chilessä yhtenä kaivosalan inspiroivimpana naisena 2021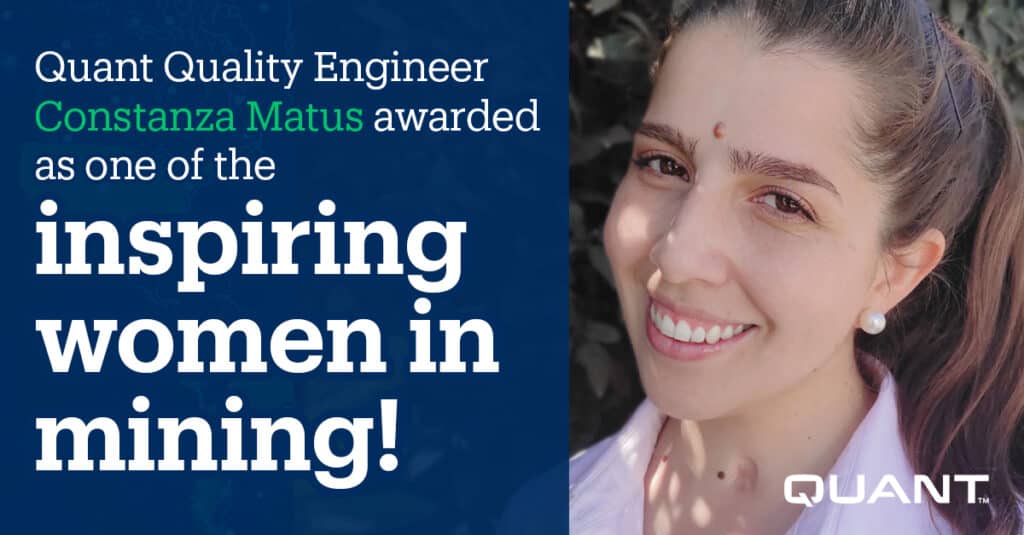 Laatuinsinöörinä Andinan tehtaalla, Chilessä, työskentelevä Constanza Matus on valittu yhdeksi 100 Inspiring Women in Mining 2021, maanalaisen kaivoksen varastojärjestelmään tehtyjen parannusten vuoksi. Constanza palkittiin Emerging Talent -kategoriassa, ja hänen todistuksensa ja panoksensa julkaistaan kirjassa yhdessä kaikkien voittajien kanssa.
Naisten edistäminen kaivosteollisuudessa
Tunnustuksen jakoi Women in Mining -kansalaisjärjestö, joka on sitoutunut edistämään ja tuomaan esiin naisten työtä kaivosteollisuudessa. María José Abud Undersecretary of the Ministry of Women and Gender Equity ilmaisi tilaisuudessa ylpeyden tästä aloitteesta.
"Toivomme, että nämä tunnustukset toimivat moottoreina useammille naisille, jotka pääsevät mukaan toimialalle ja jatkavat kehitystään alalla", hän sanoo.